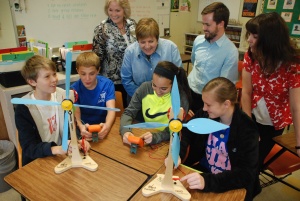 The ASM Materials Education Foundation awards 20 grants of $500 annually to help K-12 teachers bring the real world of materials science into their classrooms. "Living in a Material World" grants recognize creativity and enhance awareness of materials science and the role that materials play in society.
"Material choices are part of the design of all things," says Outreach Committee Chair, Dr. Julio Maldonado. "Yet, for many students, this part of our world remains mysterious – as unknown to our children as the depths of the ocean."
Members of ASM International know how rewarding it is to develop and produce the metals, glasses, ceramics, semiconductors, and polymers that are at the heart of all new systems. Students, however, often learn about materials science too late for effective career planning. That's why the ASM Foundation is committed to working with and supporting teachers through "Living in a Material World" K-12 teacher grants.
With a network of local Chapters across North America, ASM members are willing to work closely with local teachers to develop and implement various lessons. Feel free to share this information with other teachers in your district, as cooperative proposals are welcome.
VISIT THE ASM WEBSITE:  https://www.asmfoundation.org/who-we-impact/teachers/k-12-education/
Application process

Describe a hands-on, curriculum-based K-12 project that involves student observation, teamwork, mathematics, and science skills that enhance student awareness of the everyday materials around them. We encourage you to contact local ASM chapter members for assistance in creating imaginative, original projects that other teachers will want to emulate.
IMPORTANT!  The ASM Materials Education Foundation has been delighted to receive many more proposals than can be funded. To speed the selection process, ONLY those proposals directly addressing materials science will be considered.
Application deadline:   May 25
Any applications received after the deadline will be considered in next year's cycle.
​
View Local Chapters​     Apply for a Teacher's Grant
A one-page summary report is required upon completion of the project for each of the winning proposals.
Proposals will be reviewed by a subcommittee of the Action in Education Committee.
Results will be communicated to the applicants in early August.
If you have any questions, please contact: Jeane Deatherage, Administrator, Foundation Programs, at 440-338-5151, ext. 5533 or jeane.deatherage@asminternational.org